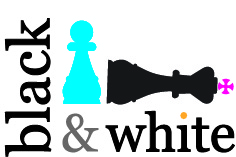 Logo design and business card creation and print.
We created a logo for the Internet design company, Black and White Creation,  that has a strapline:  "clarity in the colourful world of the Internet".
We used spot varnish (used on the coloured areas of the card) to the thick, laminated business cards to add more dynamism to the statement.